The main feature of the free version is limited export. The only way to save the video here is its publication on YouTube with a maximum resolution of p. In addition, the free release does not support visualization on the timeline and makes it impossible to manually select folders to store project files. The price of licensed versions varies depending on the number of systems on which you want to activate the software.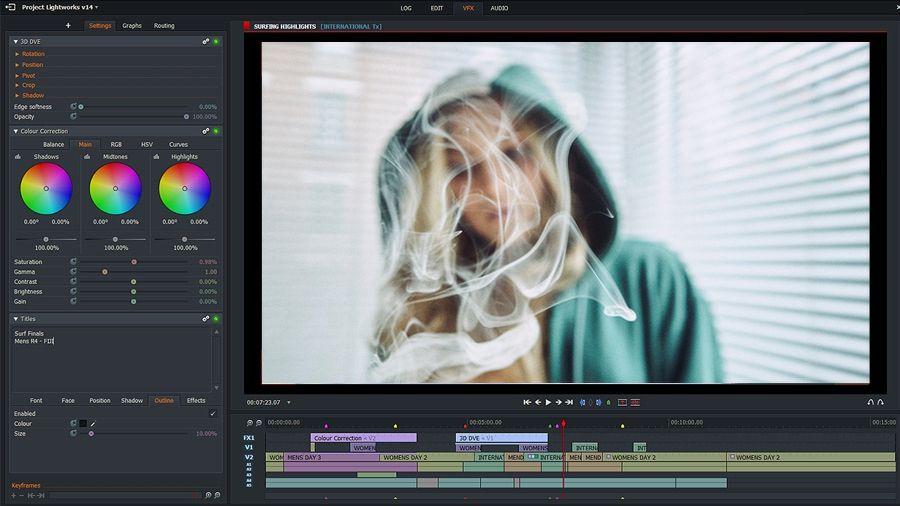 Lightworks Review
The main feature of the free version is limited export. The only way to save the video here is its publication on YouTube with a maximum resolution of p. In addition, the free release does not support visualization on the timeline and makes it impossible to manually select folders to store project files. The price of licensed versions varies depending on the number of systems on which you want to activate the software.
Lightworks Review You will not be able to start work immediately after installing the program. You will need to create an account. When you open Lightworks for the first time, there will appear a window for new user registration on the screen. Be sure to enter your data. After these manipulations, the software will be ready for work.
Lightworks Main Functions Lightworks is great for both complex video editing and simple tasks and has all the necessary tools for it.
To start working with a video editor, enter a name for the new project in the Name field, specify the frame rate of the movie you are going to edit in the Framerate line. If all the clips that you will use have the same frame rate per second, apply default Auto parameters for them. Use Bin for Batch Video Editing Lightworks is good free video editing software, focused on final video processing and work with large projects. In this regard, it has several tools that simplify the structuring of the working material.
Dozens or even hundreds of video clips may be involved in film creating. To organize them, it is worth grouping clips by some signs, for example, relation to a particular episode. Bin is an important element of Lightworks toolkit.
When working with a specific group of videos, you can create a Bin window and place important clips into it. Multiple Workspaces Another important feature of its interface is the possibility to create multiple workspaces within a single project. Each workspace is called a room. This feature can be compared with virtual desktops in the operating system.
When working on large projects, such rooms provide an opportunity to divide the video editing process into separate stages. Each room has its own set of open windows and the layout of the Lightworks interface elements. At the beginning of your work, the program creates the first room Room 1 automatically.
Adjustable Timeline The timeline principle in Lightwork is used to work with tracks. However, it is worth noting that it has a number of peculiarities. The main timeline is the Edit window, which has a combination of two windows with audio and video tracks used for editing a video and a preview window. By default, one video and two audio tracks right and left channel can be created here. Easy Clip Managing You can move a clip to one of the tracks in Lightwork software by dragging the necessary sketch imported into the project from the Clips window.
Place the clip on the track and hover over it. Note that the pointer will change its shape depending on its location. Open and closed clip brackets mean that the pointer has moved to the clip trimming mode. Additional double arrow, an open bracket added to the cursor from the left edge of the clip, the arrow of the cursor complemented by a closed bracket in the right part of the clip.
When the cursor is in the middle, you can move the video to timeline or transfer it to another free track. Fast Video Backup If the project is very complex, it is likely that video processing will be done on several PCs at once. In this case, it is necessary to transfer the work performed from one workstation to another. Lightwork software has an incredibly convenient option to create a backup copy. You can export all the data used in the current project audio, video, and graphics to a single folder with its help.
To create a data archive, right-click on the window with media files used in the project and select the Bin Commands section in the context menu. Then open Export and Backup sections, select Lightworks archive option here. Export Video Without Lags As mentioned at the beginning of this Lightworks video editor review, the export capabilities of the free version are limited to a format suitable for publishing videos on YouTube.
However, you can upload the processed movie to the server of the popular video hosting directly from the video editor. You need to provide the username and password of a YouTube user account.
It is also possible to specify tags to identify the clip by the search engine. Lightworks Color Correction Lightworks video editor has a good set of the most popular effects, including image editing filters, layer blending tools, and transition effects. To apply an effect, click on Effects button in the Edit window, then select the desired tool and click Add button. All effects are divided into two groups — audio and video.
In addition, they are grouped by category to make it easier to search for a particular tool. Deep Color Grading The Color video effects group of Lightwork editing software includes filters for image color correction.
You can change the color tone, adjust the balance of shades, convert color video to monochrome, and correct the brightness and contrast of the frame with their help. It comes in handy when you need simple post-processing filters.
You can find tools for sharpening Sharpen and Sharpen Edges , blur filters Blur and Radial Blur , Glow to add a glow effect, as well as a tool for tracing the color palette Pasterize. The vignetting effect available in Lightworks Pro program can be used to crop an image with a black color field.
Keying for Creative Video Montage The Keying category contains tools for adjusting transparency effects. It includes two main filters for adjusting the transparency using blue Bluescreen and green Greenscreen colors, as well as a keying tool for brightness Lumakey.
In addition, this Lightworks category has a tool for image importing with a transparency channel Image Key. Presets for Beginners These are standard effects with pre-configured parameters. For example, when you need to select a special range of shades to imitate an old film that has lost color saturation over time, it is enough to apply the Old Time Movie effect from the Color Presets category.
Transition Effects and Titles For artistic video editing, use transition effects to make a professional video footage as a results having edited various video clips. Multiple Transition Effects Lightworks has several of the most popular algorithms for replacing one video with another.
Blend is a transition where two clips are overlapping using one of the selected algorithms. Dissolve is a blending mechanism. Luma Wipe is a smooth color mask substitution. Masked Blend is a mask blending. Squeeze is a compression of the original video frame and stretching of another one.
Wipe is a clip change on the billboard principle. Place Titles Everywhere You Need Lightworks tools for creating titles are presented as separate effects categories that are located in the Titles and Lower Thirds groups. You can find three main titles types here, such as creeping line, teleprompter and static text. Use Lower Thirds for Placing Titles In addition to the tools described earlier in this Lightworks review, you can also use convenient presets from the Lower Thirds group.
According to television standards, the titles of this type are placed in the lower third part of the screen, which is considered a safe zone for displaying textual information. You will find templates for adding animated titles in this area of the screen in the Lower Thirds group.
You can work with different types of effects in the same way as with ordinary clips. You may control their position on the timeline, change their duration, etc.
To show the visual presentation of effects on the Timeline, right-click on the clip and select Unfold in the context menu. The effect applied to the video will be displayed on a separate track named Fx1. Many Lightworks Pro effects can be animated. The initial and final values of the parameters to be animated are set in the keyframes of the animation.
The bar indicates the duration of the clip to which the effect was applied. To create an animation, you need to add at least two keyframes. Animation keys are displayed as markers that can be moved to the Keyframes field, customizing the effect animation. Working with Sound When editing a movie, it is often necessary to change the position of the audio track relatively to the video. If you need to adjust the position of the audio track, turn off the video track to which it is attached by clicking on its name, and move the audio clip to the desired position.
Waveform for Clear Sound To increase the performance of Lightworks, some options, which help visually assess the volume level in a particular fragment of the video sequence are disabled by default.
The Waveform is one of such options. It is a graph of the amplitude of the audio signal that is generated by the program along the entire audio track.
The Waveform can be displayed for both the original audio and the edited audio track. To enable waveform display, open Show Audio Waveforms menu in the Timeline Commands section and select Pre-Levels if you want to control the waveform before audio processing and Post Levels if you want to monitor the audio level after volume correction. System Requirements Operating system: Mac Compatible sound card Optional: Two high-resolution monitors x or more Lightworks is not too demanding to computer characteristics if we talk about simple video editing or adding basic effects.
If you are going to work at a professional level, your PC must meet the requirements specified above. Read more about the best video editing laptops you may have to work with video post production without delays or lags. You should install QuickTime to work with a video editor. The program will warn you about this during the installation. Want to know more about Adobe Premiere Pro video editor?
Then, check our review with all pros and cons, functions, tools, effects, modules and prices described. Lightworks Plug-ins Plug-ins make the working process more convenient, expanding the program functions or even adding a part of other softwares. There plug-ins can be used even on free video editing programs and Lightworks video editor is no exception.
What Is Lightworks?
Lightworks is a video editing solution that has established a reputation in cinema history, as it is the preferred video editor in the creation of. Lightworks is EditShare's Academy and Emmy award-winning, professional Non- Linear Editing (NLE) software supporting resolutions up to 4K as well as video. By far the most powerful free video editor around, Lightworks democratizes filmmaking by putting premium tools within reach of everyone.
Lightworks Review – Pros, Cons and Verdict
This software is an instrument that allows us to download music paths, playlists, albums from Spotify, and convert them. It works with storage in a number of standard types, including MP3, AAC, WAV, FLAC, M4A or M4B. This software also provides us easy organizing of large music selections by artists and musicians or albums. And users who have this software are certain to get a free upgrade for lifetime. Once we meet problems in using this program, we can email help center freely.
Lightworks Reviews from Evaluation Websites
Required fields are marked Save my name, email, and website in this browser for the next time I comment. Notify me of follow-up comments by email. Notify me of new posts by email.
HOWTO VIDEO: Lightworks Review – Pros, Cons and Verdict – OneTom Review
Related Download Links: Find Ms Office 2010 Product Key | Dvd Fab 10 Torrent
Lightworks has an unusual history for free video editing software—it was born out of high-end, professional film editing software that was used. Review Issue: Reviewed By: Manuel Crosby Final Score: (out of 10). Every editor looks for something different in their software of choice. By far the most powerful free video editor around, Lightworks democratizes filmmaking by putting premium tools within reach of everyone.